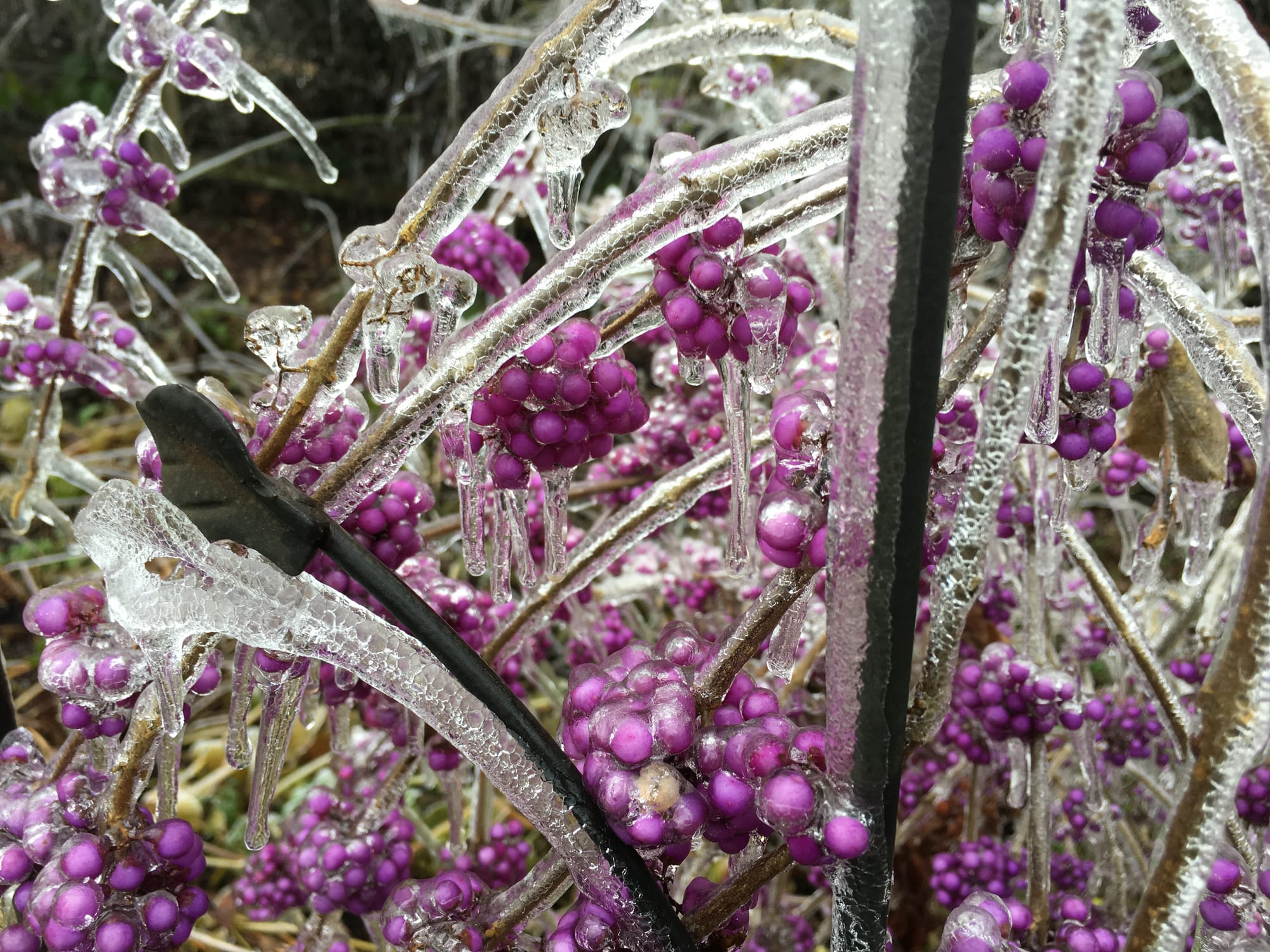 I don't know about you, but as much as I've made my peace with the December holy days that are too often not so holy and during which I hold joy, community and light in the darkness, I am thrilled and relieved when the "normalcy" of January sets in. It 's just my nature to prefer the quiet joys and miracles of life that spontaneously present. There's something about forced gaiety that makes me feel awkward and pressured! I prefer to celebrate when I'm inspired, not on demand!
Solstice has come and gone and is pointing us towards Spring even as nights freeze and winter coats relax expectantly on chairs so we may don them quickly. How fortunate we are, many of us, to have warm and cozy homes and plenty to eat.
Pictured here is a frozen beautyberry (callicarpa), one of the stars of the winter garden, leaning on a sturdy rose trellis.
Although the garden is resting and I can happily take a break, there is still preparation at a leisurely pace in anticipation of Spring 'o' glorious Spring!
My grandchildren (little garden sprites) were here recently and got out with all their youthful vigor to cut, rake and collect! Guided by myself and their beloved PapaD, a good time was had by all and some of the winter goop got cleared! They treasure being in 'Safta's garden' all year long and I love to show them everything from overwintering parsley, baby grapes on the vine to emerging shoots that will later become gorgeous flowers. The teacher in me loves the innocent excitement on their faces and their expanding awareness of nature's magic.
Last year we had a mighty freeze and are joined here by our son Eli and his fiancee Raya in an outdoor fire amongst the frozen branches. We have been warmed by outdoor winter fires for decades. Coming together beneath the clear, starry winter night has become a family tradition, reminiscent of native Americans passing the winter in their teepees. Many years ago I spent a summer with friends who lived in a teepee and they commented that instead of watching the various TV channels like their neighbors, they reveled in the company of alder, oak and beech burning and crackling in the evening.